IF YOU WERE WAITING FOR AN INVITATION, THIS IS IT!
Share Your Passion and Create Your Legacy with Triple Threat Mentoring. We'd love for you to get involved. Sign up to volunteer, to serve on our Junior Board, or rock an awesome internship!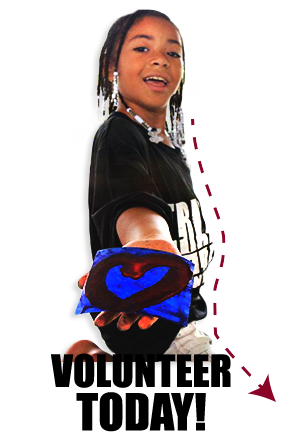 HOW YOU CAN MAKE A DIFFERENCE
Without you, Triple Threat can't make a difference. Volunteers are the life blood of our programs and the heart of partnership that leads to change. Encouragement of personal involvement in urban community development is a core value of Triple Threat.
We actively seek out caring adults and college and high school students with a desire to invest in youth. Volunteers serve as positive role models of good character and solid values that build faith and hope in our youth. Relationships developed with local churches, schools, businesses and other non-profits have resulted in strong partnerships and active volunteerism.
Volunteer roles include a wide variety of event, programming and mentor roles, as well as library or administrative help, carpentry, general service projects, and bilingual translation of communications to parents. All volunteers work together under team leadership. We're always recruiting for upcoming Events and Programs in each of the areas of Athletics, Academics and Arts. Why not try serving in your community today?
Fill Out The Volunteer Form Below For Opportunities Suited For You
As much fun as we have at Triple Threat Mentoring, we're very serious with our finances. We're audited by an outside firm, and 94 cents of every dollar goes back directly into programming for under-resourced youth.
GIVE
At Triple Threat, 94 cents of every dollar goes straight to programming for under-resourced youth. Give a few bucks. Watch your money change a kid's life. BOOM. You're awesome!


INVOLVE
There's nothing greater than seeing your passion change a kid's life. Take what you or your company is great at, share that in a 3T program or event and watch awesome things unfold.

DONATE TODAY
Triple Threat Mentoring is a non-profit 501(c)(3) organization. Our mission is to address the needs of urban youth through strategic programming in Athletics, Academics and Arts.
.
.
Accountability
When you support Triple Threat Mentoring, you can trust that your donation will be handled with integrity. Our commitment is to direct 100% of your donation toward the program for which it is intended.
Tax Benefits
When you donate to Triple Threat Mentoring, you'll receive a gift receipt which may be up to 100% tax-deductible (consult your tax advisor).
PayPal Info
Our policy is to give 100% of your donation directly to the program in which it was intended.
We are proud to offer convenient online giving through our merchant partner PayPal.com. For this service, PayPal charges a small transaction fee to process your secure payment online. (The current Transaction Fee is 2.2% + $.30)
NOTE: All payments are processed securely by PayPal.com. You will be directed to their website to complete the transaction. *Recurring Donations: Amount is withdrawn once a month for 12 months.