Make a difference by volunteering with Triple Threat Mentoring 
Without you, Triple Threat can't make a difference. Volunteers are the life blood of our programs and the heart of partnership that leads to change. Encouragement of personal involvement in urban community development is a core value of Triple Threat.
We actively seek out caring adults and college and high school students with a desire to invest in youth. Volunteers serve as positive role models of good character and solid values that build faith and hope in our youth. Relationships developed with local churches, schools, businesses and other non-profits have resulted in strong partnerships and active volunteerism.
Volunteer roles include a wide variety of event, programming and mentor roles, as well as library or administrative help, carpentry, general service projects, and bilingual translation of communications to parents. All volunteers work together under team leadership. We're always recruiting for upcoming Events and Programs in each of the areas of Athletics, Academics and Arts. Why not try serving in your community today?
Triple Threat has volunteer opportunities in Chicago, Aurora, Los Angeles and Santa Ana. Our programs are great for group volunteering opportunities, teen volunteers, company volunteering and for college and high school volunteers.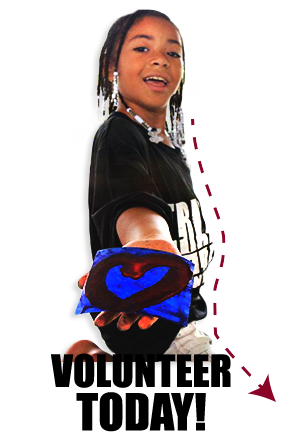 If you're in the Aurora/Chicago area, fill Out The Volunteer Form Below For Opportunities Suited For You!